THREE CASES DECLARATION: stop-factor for defaulters and fraudsters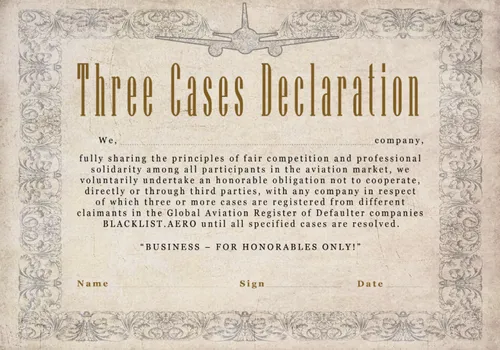 Global Aviation Register of Defaulter companies BLACKLIST.AERO is announcing the launch of a new initiative for the entire aviation market, regardless of companies' size and specialization.
We are absolutely convinced that the good old "non-handshake principle", which was in use in the past and protected any professional community from swindlers and fraudsters, should return to the modern business environment.
The Three Cases Declaration is precisely the instrument of self-regulation of the aviation market that will most effectively protect companies from the actions of defaulters and fraudsters. We are confident that following the principle of this declaration might prevent a huge number of frauds and non-payments.
Since now crooked dealers have a deterrent. They will think twice before they try to pull off some kind of fraud in the aviation market.
Moreover, pretty soon it will become clear who is who in the aviation market. Which companies actually defend the principle of fair competition and professional solidarity. And which ones only imitate their integrity, but in fact have the mindset of jackals and hyenas.
I urge all companies across the aviation market, who trust the Global Aviation Register of Defaulter companies BLACKLIST.AERO and share our principles of aviation market self-regulation, to join the Three Cases Declaration.
In order for us to send you the above-mentioned Declaration form for signing, please write to the e-mail: register@blacklist.aero indicating name and physical address of your company.