SUCH A SMALL BUT SUCH AN ESSENTIAL REFUND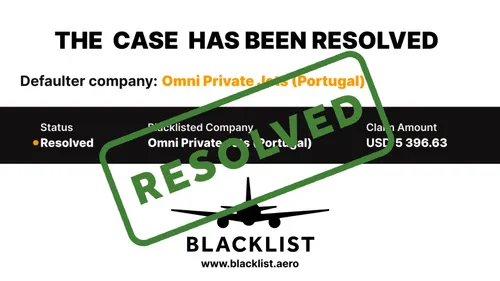 BLACKLIST.AERO Register doesn't care about the amount of a debt. What's important to us is the principle of INEVITABILITY of punishment for defaulters and fraudsters.

The defaulter OMNI PRIVATE JETS ignored all attempts to resolve the issue of non-payment of the handling bill for almost a year. The company didn't make any complaints about the bill. Didn't try to explain why it did not pay it. They simply ignored all the requests for payment.

As long as BLACKLIST. AERO Operations Team didn't "pin down" this operator at one airport, which was served by only one handling company.

We are grateful to the representatives of this company for the fact that they understood the information provided by us and refused to service the OMNI's aircraft.

That's when representatives of OMNI PRIVATE JETS immediately contacted their creditor and promised to close the debt! Which they did as a result.

I just have a question for OMNI: your cheating and arrogance were worth it???