"SAINT PEDRO" FROM WORLDJETS GETS READY TO ESCAPE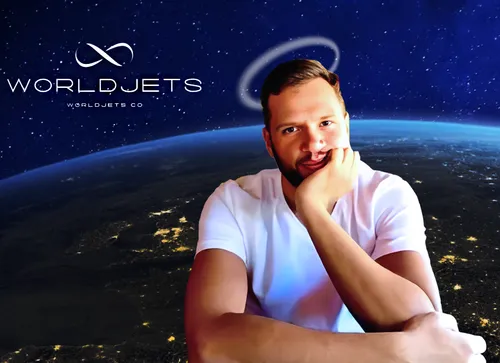 The WORLDJETS LTD flights cancellation scandal, which has just now spilled over into the public space, opened one of the most festering wounds of modern business aviation.

For BLACKLIST.AERO Registry administration, the first "calls" were heard a month ago, when the contractors of this company began to sound the alarm. PEDRO BOLLINGER was unable to fulfill a number of his charter obligations on the OE-HWJ aircraft operated by AVCON JET.
According to Pedro, he was selling future charters on the aircraft that was under repair. At the same time, he, according to him, received a guarantee from the owner of the aircraft that it would be ready by the date of the first sold flight. However, the aircraft owners failed to repair it in time. At the same time, the money paid by other brokers to WORLDJETS for upcoming flights, Pedro Bollinger was also unable to return due to the collapse in sales.
A representative of the AVCON JET operator in a conversation with the editors of BLACKLIST.AERO said that they would not support WORLDJETS and provide a replacement board for sold flights due to the fact that Pedro Bollinger has an agreement for the sale of charters on OE-HVJ not with AVCON, but directly with the owners of particular board.
Avcon's position in this case is quite clear. It is much more profitable for them to eliminate a competitor who sells "their" aircraft, rather than trying to help him. The situation is similar with the other three aircraft, exclusivity for the sale of flights on which Pedro Bollinger and WORLDJETS also still have. Despite the fact that the aircraft are under the flags of other three different operators.
More than three weeks ago, Pedro Bollinger, in a conversation with BLACKLIST.AERO, asked not to "take down" his company and not make a fuss so that he could get out of problems and pay off his debts. In his explanations, he appeared to be practically a saint. An angel who became a victim of circumstance. And at that point, we thought that a person who finds himself in such a difficult situation has the right at least avoid the dance on his bones.
Until we dug deeper...
Hence, what we have found out so far:
1. PEDRO BOLLINGER has long been known in the business aviation market for offering increased profitability to business jet owners, thus inducing them to sell flights not through the operator under whose flag the aircraft is, but through him.
2. At the same time, through the AVINODE system, Pedro offered the cost of a flight hour on four business jets significantly lower than his competitors. As you know, free cheese happens only in a mousetrap. But nevertheless, the "mice" gladly ran to this free cheese. Why, you ask? Majority attributes this to the trust in the AVINODE system. Like, if WORLDJETS has been in this system for so long, then it means everything is legal, it means it works.
3. Now here is some more interesting information: We have every reason to believe that PEDRO BOLLINGER is a fake personality. Behind this name may be PEDRO GONCALVES, Resident of Portugal, Brazilian nationality.
4. It is PEDRO GONCALVES who is the director and shareholder of WORLDJETS LTD https://uk.globaldatabase.com/company/worldjets-ltd
5. PEDRO BOLLINGER - GONCALVES has two companies called WORLDJETS - in the UK and Portugal.
6. The same aircraft as WORLDJETS are being sold by another company called DB AVIATION. According to the stories of several brokers, when it comes to a substantive conversation regarding a particular flight, a certain PEDRO DIAS is included in the correspondence. The editors of BLACKLIST.AERO tried to call the phone number appearing in the correspondence, but to no avail. Nobody picked up the phone. We believe that PEDRO DIAS is none other than PEDRO GONCALES, aka PEDRO BOLLINGER.

And now for "dessert"! Knowing the psychology of scammers, we assumed that Pedro would not lay low, but would start creating other companies in order to "open the shop" anew. A simple check was enough to find out - just over a month ago, on April 27, 2023, our "Saint Pedro" has opened such a shop! Please love and favor, the future "new player in the world of business aviation" - HAVIOT LTD!
https://find-and-update.company-information.service.gov.uk/company/14831170/officers
We asked all the questions we had directly to the hero of our article. It is important for us to clarify all the details, and not hang labels. Pedro asked to send him a request by e-mail. He sent the following as his comment:
"Dear Artem
I do not recognize you as a contractual party neither a party to deal on behalf of anyone here and I hope you limit yourself to your contractual position.
______ (Claimant name – edit.) has signed an agreement with Worldjets Ltd UK and despite your scandal or sensational journalist I have nothing to say to you and if anything to say would be to our partners directly.
I do not confirm none and any of your questions and none of them are related to this agreement.
Thank you
Pedro"
Tah-dah... And this person asked me for almost a month not to take down his "business"...
The question arises: what now needs to be done by the numerous victims of "Saint Pedro"? BLACKLIST.AERO recommendations are as follows:
1. All victims need to unite in a pool of creditors who can act together. This will not only be more cost-effective, but also much more efficient. Until now, everyone has seen only a small piece of the big picture. It is important to see it in its entirety in order to take really effective actions against this scammer.
2. The owners of the aircraft should be involved in the discussion of this problem. Pedro has an exclusive contract for the sale of charters not with operators, but with the owners of aircraft. It is not yet clear who they are in this scheme - yet another victim, or accomplice. Here it is necessary to track the entire chain through which the money passed and where it breaks. If you involve the police, then which country? This is a big question.
3. You have encountered a real scammer who has been active for many years. And this means that as far as he is experienced in his machinations, he also depends on the business aviation market. He is used to harvesting here. It is difficult for him to start something new in a new place without knowing the market. Therefore, you can make him give your money back only by blocking oxygen for him. That is, to block the possibility of earning money in business aviation.
4. After this short investigation, Pedro, of course, will understand that now he can operate in the business aviation market only through figureheads. He has already lit up too much. Therefore, it will be important for all of his creditors to collect and exchange information among themselves about every step in the aviation market of Pedro himself, his associates and companies associated with them. It is also important to keep track of "new players" in the market. In 80% of cases, these so-called "new players" are well-known "old foxes".
As for more far-reaching consequences, you should not hope that the same AVINODE, the trust in which played a cruel joke with many victims of "Saint Pedro", will begin to check its subscribers more carefully. And even more so - to take any part in the "debriefing". At least, my previous conversations with AVINODE management lead me to such conclusions. Am I right, OLIVER KING???